Courtesy photo
Pastor Andrea (middle, red jacket) shared her thoughts on the Reformation, which occurred 500 years ago during a recent panel discussion at Katie's Cup.
This month at St. Anskar's:
Revised monthly
This week at St. Anskar's:
Revised weekly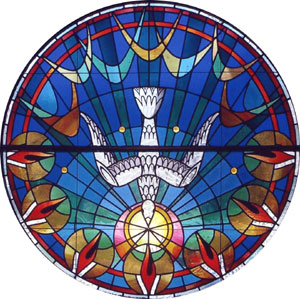 "
Reaching out
with faith, love and praise."
Looking for a church home?
Our mission statement captures three aspects of St. Anskar's identity. We are a faithful community of Episcopalians who gather from a wide area each Sunday morning to praise God and share the Holy Eucharist. Growing in love implies our desire to build on our common goals, sense of fellowship, and feeling of belonging to a large extended family/community. We look to continue to grow in our expressions of praise to the God who created, redeemed and sustains us. The Rev. Andrea L. Wight is rector of St. Anskar Episcopal Church. Come meet her and the rest of our church family this Sunday.
Download this month's Communicator

Healing Team
puts quarterly services on hold

The healing ministry was trained and commissioned twelve years ago. Initially, services were offered in the sanctuary and then in the chapel.

Overall, the services were well received. In the past year, our active team membership has fallen, mainly due to health problems. The team met to discern what it should do and made the difficult decision to discontinue the healing services. We will continue to be available for prayer requests on Sundays during Communion. The ministry will be open to new possibilities that God may call us to serve the parish and the community.

Laundry Love
seeks donations, volunteers

The Laundry Love ministry, which Spring Creek Church took over earlier in the year, occurs from about 6 p.m. to 8 p.m. every third Wednesday of the month at Charles Street Laundry, 2125 Charles St.

The program provides laundry service to the needy—families and individuals and especially the homeless. Cash donations are used to run the washing machines and dryers and to buy detergent and dryer sheets (at a huge discount from P&G).

Volunteers also are needed to help on laundry day. If you would like to help, please call Spring Creek at 815-877-2576 or email office@springcreekucc.com.
Reaching out:
Our outreach ranges from providing a regular meeting place for more than a dozen community groups to whipping up some great meals for some of Rockford's hungriest residents.
Learn more