Pastor
Andrea and Pastor Ivan Schoen of Spring Creek United Church of Christ, pass out books purchased by Partners for Faith to kindergartners at Spring Creek Elementary School in early April as part of the organization's outreach program. Other members of Partners for Faith are Temple Beth-El and Lutheran Church and Gloria Dei Lutheran Church.
This month at St. Anskar's:
Revised monthly
This week at St. Anskar's:
Revised weekly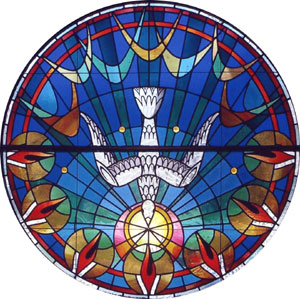 "
Reaching out
with faith, love and praise."
Looking for a church home?
Our mission statement captures three aspects of St. Anskar's identity. We are a faithful community of Episcopalians who gather from a wide area each Sunday morning to praise God and share the Holy Eucharist. Growing in love implies our desire to build on our common goals, sense of fellowship, and feeling of belonging to a large extended family/community. We look to continue to grow in our expressions of praise to the God who created, redeemed and sustains us. The Rev. Andrea L. Wight is rector of St. Anskar Episcopal Church. Come meet her and the rest of our church family this Sunday.
Download this month's Communicator

Attic Treasures Sale

Thanks! We couldn't have done it without you.
Spring plant sale to benefit
Meld and Rock House Kids
Partners for Faith congregations are beginning to prepare for our Annual Spring Mother's Day Plant Sale. The weather is improving daily.
The snow is melting with the rising temperatures, and, before we know it, it will be time to think about our gardens and flowers. This year, proceeds will support MELD and Rock House Kids.
To download a copy of the order form, click here.

Fill the form out, cut it in half lenghtwise, and mail the right side and your check to St. Anskar Episcopal Church, 4801 Spring Creek Rd., Rockford, IL 61114.

Keep the left side as a reminder, and, then, all you have to do is swing by between 9 a.m. and noon on May 9 to pick up your order.

We appreciate your support of this project—it really is a win-win for all. We get some really nice plants, and, with the proceeds of the sale, we are able to support non-profits in our community.
Reaching out:
Our outreach ranges from providing a regular meeting place for more than a dozen community groups to whipping up some great meals for some of Rockford's hungriest residents.
Learn more