Photo by Dave Smith
Cynthia Reynolds and Dawn DiVenti .(left) were among hundreds of Episcopalians who toured the sanctuary during the St. James Commons Block Party in Chicago earlier this fall. About 50 people from the Rockford Deanery enjoyed the festivities, thanks to a bus arranged by Pastor Andrea from St. Anskar's.
This month at St. Anskar's:
Revised monthly
This week at St. Anskar's:
Revised weekly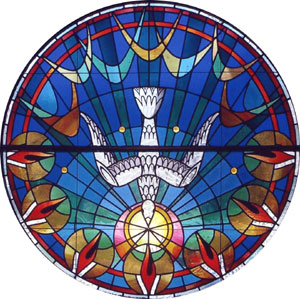 "
Reaching out
with faith, love and praise."
Looking for a church home?
Our mission statement captures three aspects of St. Anskar's identity. We are a faithful community of Episcopalians who gather from a wide area each Sunday morning to praise God and share the Holy Eucharist. Growing in love implies our desire to build on our common goals, sense of fellowship, and feeling of belonging to a large extended family/community. We look to continue to grow in our expressions of praise to the God who created, redeemed and sustains us. The Rev. Andrea L. Wight is rector of St. Anskar Episcopal Church. Come meet her and the rest of our church family this Sunday.
Download this month's Communicator


Photo by Dan Warren
The Revs. Tony and Fran Begonja and Andrea Wight bless Janet Pavlak, Taj Guzzardo, and Deacon Nancy Conrads, founding members of St. Anskar's chapter of the Order of St Luke, an interdenominational religious order dedicated to a Christian healing ministry. It was founded by John Gayner Banks, an Episcopal priest, in 1947.
Let's fill eight baskets
with hope this year
With referrals from Love INC, we'll participate in The Holiday Basket ministry as the parish will fill both Thanksgiving and Christmas Baskets for eight families.
We'll serve the same families for both holidays. Several parishioners will be needed as teams to deliver the baskets and a couple of people to help shop.
In order to fund this ministry, a donation of $35, or any amount you can give, is needed to fill a basket each holiday. You can make a check to St. Anskar and put 'holiday basket' in the memo section.
Let Pastor Andrea or me know if you can volunteer to help shop or deliver the baskets. These Holiday Baskets of Hope bring joy and love to families in need and provide a great way to share our love and care for others.
Deacon Nancy
Reaching out:
Our outreach ranges from providing a regular meeting place for more than a dozen community groups to whipping up some great meals for some of Rockford's hungriest residents.
Learn more